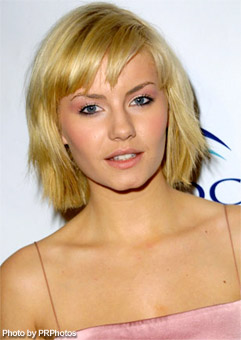 When it comes to hairstyles, a medium bob is a very safe and versatile cut that fits the looks and style of a lot of woman. The bob allows a style that frames the face and can narrow wider facial shapes like heart shaped ones or soften jaw lines like angular facial shapes. Pictures of Bob Hairstyles & You Can Try Them On!
View your uploaded photo with hundreds of celebrity hairstyles!
The medium bob is also a very versatile hairstyle that can be changed by how the texture of the hair is set and the style added to the hair rather it be curls, waves, or slight flips. The medium bob continues to be a favorite hairstyle because of the many beautiful looks that come along with it. It is a great change of from long locks to a shorter, chic style. Now, lets examine three great medium bobs and how each is a unique beautiful hairstyle.
Choppy, Blunt Bob
This is a great medium bob on Elisha Cuthbert. Many women will find this blunt bob very flattering as the bangs add a touch to the bob and help soften other facial features like wider foreheads. The blunt sides help narrow the facial region and draw more attention to the overall look. This blunt, choppy bob is quite different from the normal traditional bobs but creates the same appeal with an added touch. A good option for people experienced with bobs who want to try a different variation